Untitled (Valle d´Aosta) I, II, III, IV
2011
Powder coated steel, climbing ropes, snap hooks
4 parts, each 250 x 180 x 7 cm
For the exhibition Un´Espressione Geografica the artist investigated the Italian region of Valle d´Aosta, and after traveling throughout the area she developed a site-related work. The region of Valle d´Aosta is situated on the Italian-French border, at the foot of the Alps near Mont Blanc. The high mountains have shaped the history of the region and have given it a particularly autonomous status. The work deals with the relationship of the inhabitants to their surroundings and living conditions. Sculptural juxtapositions and super-impositions of form and material visualize a process of abstraction. The simple forms of the four metal constructions are based on façade elements, which the artist photographed on buildings of the region in cropped compositions. Various climbing ropes have been playfully spanned on the white-coated metal constructions. The material of the climbing ropes refers directly to the region of the Alps. As visual elements they break up the metal structures, which despite their size have a rather unobtrusive appearance against the white wall.
Exhibitions:
Un´Espressione Geografica, Fondazione Sandretto Re Rebaudengo, Turin, 2011
Sunah Choi, Part 1, Galerie Mezzanin, Vienna, 2014
Related work:
Aosta, 2011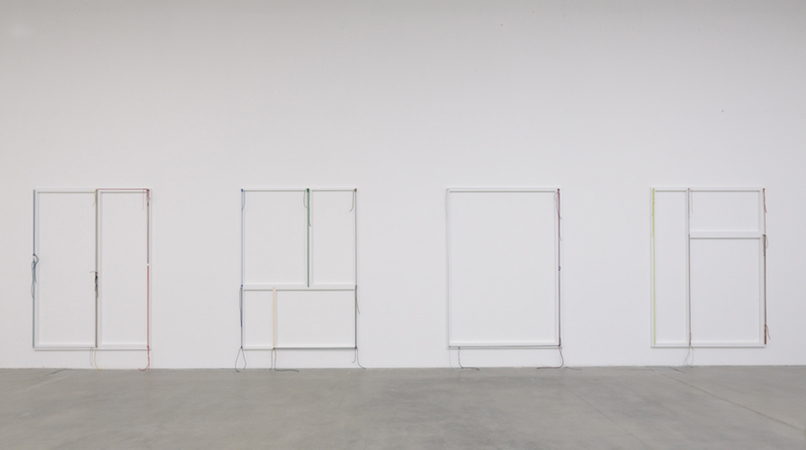 Photos: Maurizio Elia